Join us for upcoming programs at the library or online
Library events are free and open-to-all. Registration provides the Library and its partners with a headcount so we can prepare accordingly. Registration, however, does not guarantee a seat, and participants are encouraged to arrive early.
Interested in a children's program?
Register each child individually, under the child's name
, and please indicate age.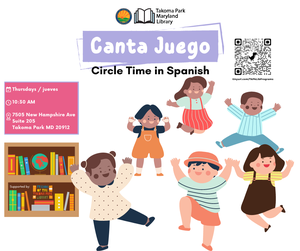 Weekly: Thursdays
Canta Juego has resumed in person!

¡Canciones y juegos en español!

Join Señora Geiza every Thursday morning at 10:30 AM for fun songs, movement exercises, and games in Spanish.

IN-PERSON PROGRAM
Sponsored by Friends of the Takoma Park Maryland Library.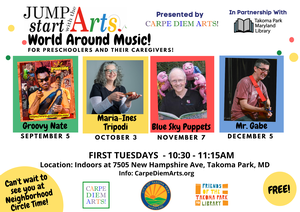 Tuesday, Jan. 24, 10:30 AM
Carpe Diem Arts and Takoma Park Maryland Library continues
Jump Start with the Arts' World Around Music! for Preschoolers and their Caregivers

Next performance: October 3 with Maria-Ines Tripodi
Presented through a partnership of Carpe Diem Arts and Takoma Park Maryland Library. Made possible by the City of Takoma Park, Friends of the Takoma Park Maryland Library, National Endowment for the Arts, and generous donors of Carpe Diem Arts.
When we are not presenting a Jump Start With the Arts performance, join us for our regular
Neighborhood Circle Time
every Tuesday at 10:30 a.m. for songs, rhymes, a story, and bubbles!
For kids 0-5 and their grownups.
IN-PERSON PROGRAM
October 15, November 12, December 10, 1:00
October 15: Flower crowns
November 12: TBA
December 10: Cards for the holidays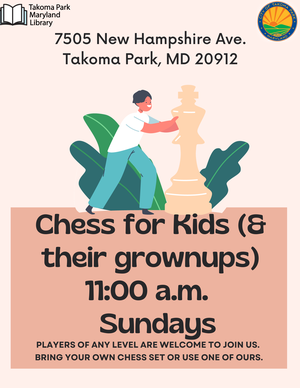 Sunday, Apr. 16, 11 a.m.
Please join us every Sunday at 11:00 a.m. for some casual chess playing before the library opens!
Any and all interested kids and their caregivers of any level are welcome to join us.
Bring your own chess set or use one of ours.





Monday, May 1, 10:30
Come join us at 10:30 Monday mornings for crochet and cozy mysteries
Bring your hooks and yarn. Don't have any? We'll find some for you. A beginner? You'll find help.
Knitters and loom knitters - please join us.
We will be joined by a professional fiber artist who will introduce us to felting and other techniques.
May 1,6,15,22
June 5,12,26
July 3,10, 17, 24, 31
August 7, 14, 21, 28
September 11, 18, 25
Registration is optional. (It's just a way for us to get an email address in case we need to contact you.)
Sundays, October 8, November 5, December 3 1:00-5:00
Kids and families are welcome to enjoy free play with Mega Bloks, Duplo, and LEGO at the library! All ages are welcome, but please be careful with small pieces around kids under three.
We also have LEGO magazines and books to inspire your creations.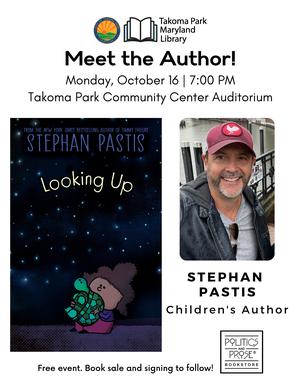 Monday, Oct. 16, 7:00 PM
From the author of the New York Times bestselling Timmy Failure series and the Pearls Before Swine comic strip series comes an unforgettable and heartwarming story Looking Up.

About the Book:
A quirky and heartwarming middle grade novel about a girl struggling with loneliness and the curveballs of life—featuring black and white illustrations throughout. This story from comic genius Stephan Pastis is equal parts touching and hilarious, and is sure to resonate with any child who has ever felt like they don't quite fit in!

Living alone with her mother in a poorer part of town, Saint—a girl drawn to medieval knights, lost causes, and the protection of birthday piñatas—sees the neighborhood she has always known and loved disappearing around her: old homes being torn down and replaced by fancy condos and coffee shops. But when her favorite creaky old toy store is demolished, she knows she must act. Enlisting the help of Daniel "Chance" McGibbons, a quiet, round-faced boy who lives across the street (and whose house also faces the wrecking ball), Saint hatches a plan to save what is left of her beloved hometown.

On the surface, Looking Up is a story about a quirky and hilarious girl named Saint who readers will love meeting and spending time with. But beneath the surface of this story is a tender, sometimes heartbreaking, but always hopeful story about a little girl's struggle with loneliness after the death of her father.

About the Author:
Stephan Pastis is the creator of the syndicated comic strip Pearls Before Swine, which appears in over 800 newspapers. He is also the creator of the Timmy Failure book series and the cowriter of the Disney+ movie Timmy Failure: Mistakes Were Made. He lives in Northern California with his wife and two kids. You can find him online at his website, stephanpastis.wordpress.com, or on Twitter and Instagram @stephanpastis.

Parking Notice:


Please note that parking will be limited the day of the event due to construction.




Additional parking will be available at the adjacent Piney Branch Elementary School (7510 Maple Ave, Takoma Park, MD 20912).




We're encouraging participants, staff, and volunteers to walk, use public transportation or a rideshare option.
Sponsored by Politics & Prose.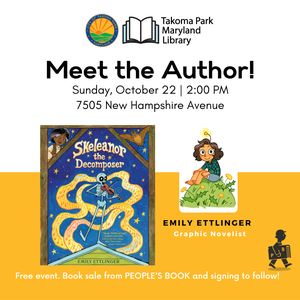 Sunday, Oct. 22, 2:00 PM
Just in time for Spooky Season, it's Skeleanor the Decomposer!
Meet local graphic novelist Emily Ettlinger.

About the Book:

An instantly charming and vivid chapter-book graphic novel, starring a music-obsessed skeleton, Skeleanor, and her quest to find her sound (and her confidence) by debut creator Emily Ettlinger.

Skeleanor loves music more than life itself. There's just one problem: She has a bit more rattle than rhythm at the moment. No matter what type of instrument she plays—from the fiddle to the xylobone—she always seems to scare the people of Little Casketon away. But with the Little Casketon Summershine festival coming up, and the town band missing a player, maybe Skeleanor (along with the help of her best friend, Batima) could show people her skills and finally take center stage.

Hilarious and heartfelt, Skeleanor the Decomposer by debut author and illustrator Emily Ettlinger is a story about chasing your passions no matter what other people say. Sometimes, all you need is a dream, your friends, and a little music.

About the Author:

Emily Ettlinger is a Maryland-based illustrator, cartoonist, and product designer and Rhode Island School of Design 2016 graduate.
Visit her at https://www.emiett.com